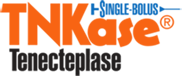 Indication
TNKase® (tenecteplase) is indicated for use in the reduction of mortality associated with acute myocardial infarction (AMI). Treatment should be initiated as soon as possible after the onset of AMI symptoms.
Important Safety Information
Contraindications
TNKase therapy in patients with AMI is contraindicated in the following situations because of an increased risk of bleeding: active internal bleeding; history of cerebrovascular accident; intracranial or intraspinal surgery, or trauma within 2 months; intracranial neoplasm, arteriovenous malformation, or aneurysm; known bleeding diathesis; and severe uncontrolled hypertension.
Warnings and Precautions
Bleeding
The most common complication encountered during TNKase therapy is bleeding. Should serious bleeding (not controlled by local pressure) occur, any concomitant heparin or antiplatelet agents should be discontinued immediately and treated appropriately.
In clinical studies of TNKase, patients were treated with both aspirin and heparin. Heparin may contribute to the bleeding risks associated with TNKase. The safety of the use of TNKase with other antiplatelet agents has not been adequately studied. Intramuscular injections and nonessential handling of the patient should be avoided for the first few hours following treatment with TNKase.
The risk of bleeding may be increased in the following conditions and should be weighed against the anticipated benefits: recent major surgery, cerebrovascular disease, recent gastrointestinal or genitourinary bleeding, recent trauma, hypertension, acute pericarditis, subacute bacterial endocarditis, hemostatic defects, severe hepatic dysfunction, pregnancy, diabetic hemorrhagic retinopathy or other hemorrhagic ophthalmic conditions, septic thrombophlebitis or occluded AV cannula at seriously infected site, advanced age, patients currently receiving oral anticoagulants, recent administration of GP IIb/IIIa inhibitors, and any other condition in which bleeding constitutes a significant hazard or would be particularly difficult to manage because of its location.
Thromboembolism
The use of thrombolytics can increase the risk of thrombo-embolic events in patients with high likelihood of left heart thrombus, such as patients with mitral stenosis or atrial fibrillation.
Cholesterol Embolization
Cholesterol embolism has been reported rarely in patients treated with all types of thrombolytic agents; the true incidence is unknown. This serious condition, which can be lethal, is also associated with invasive vascular procedures (e.g., cardiac catheterization, angiography, vascular surgery) and/or anticoagulant therapy.
Arrhythmias
Coronary thrombolysis may result in arrhythmias associated with reperfusion. It is recommended that anti-arrhythmic therapy for bradycardia and/or ventricular irritability be available when TNKase is administered.
Use with Percutaneous Coronary Intervention (PCI)
In patients with large ST-segment elevation myocardial infarction, physicians should choose either thrombolysis or PCI as the primary treatment strategy for reperfusion.
Precautions
Standard management of myocardial infarction should be implemented concomitantly with TNKase treatment. In the event of serious bleeding, heparin and antiplatelet agents should be discontinued immediately.
Hypersensitivity
Anaphylactoid reactions associated with the administration of TNKase are rare and can be caused by hypersensitivity to the active substance tenecteplase or to any of the excipients. If symptoms of hypersensitivity occur, appropriate therapy should be initiated.
Drug and Drug/Laboratory Test Interactions
Formal interaction studies of TNKase with other drugs have not been performed. Patients studied in clinical trials of TNKase were routinely treated with heparin and aspirin.
During TNKase therapy, results of coagulation tests and/or measures of fibrinolytic activity may be unreliable unless specific precautions are taken to prevent in vitro artifacts. Tenecteplase is an enzyme that, when present in blood in pharmacologic concentrations, remains active under in vitro conditions. This can lead to degradation of fibrinogen in blood samples removed for analysis.
Adverse Reaction
The most frequent adverse reaction associated with TNKase is bleeding.
Should serious bleeding occur, concomitant heparin and antiplatelet therapy should be discontinued. Death or permanent disability can occur in patients who experience stroke or serious bleeding episodes. For TNKase-treated patients in ASSENT-2, the incidence of intracranial hemorrhage was 0.9% and incidence of any stroke was 1.8%. The incidence of all strokes, including intracranial bleeding, increases with advancing age.
Please see full Prescribing Information for additional Important Safety Information.